Legionella Testing Software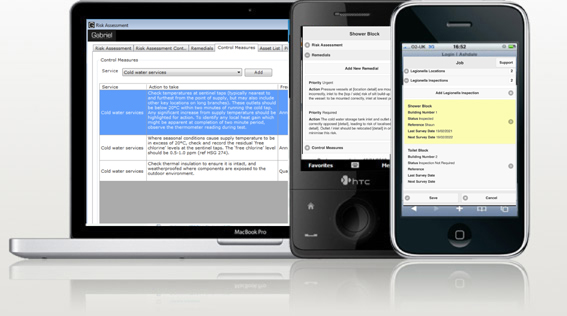 If you have a high workload of Legionella Testing and Inspection work to schedule and carry out, Gabriel's easy-to-use Legionella Testing software is for you. Our solution overcomes the nightmares caused by scheduling a complex matrix of visits and streamlines the generation of reports for your clients - so your field based staff are more efficient and can carry out more work on site.
We spoke to Shaun O'Neill to find out more:
Shaun, our software is aimed at companies that perform Legionella tests but what does it aim to do?
There are many different types of tests that companies need to conduct, two yearly reviews, annual, monthly and weekly inspections and our system manages the process of scheduling these visits and giving engineers and inspectors the information they need about each test while they are at customer sites.
All the different types of Legionella testing and reports are included in the system, the main aim being to speed up the capture of information in the field and reduce the administration time and make reporting more professional.
Who is it aimed at?
Usually people who carry out quality control inspections, for Housing Associations, Local Authorities, MoD facilities, anywhere where water is consumed, from water tanks that feed heating systems to taps and showers.
What equipment do customers need to give their engineers and inspectors?
A laptop, iPad, Smartphone, iPhone or Android based tablet. As Legionella reports can be quite wordy, a tablet or laptop is best, but we've simplified the application so that standard paragraphs of text can be built into the system and re-used where needed.
Do field-based staff find it easy to use?
Yes – and a lot quicker! They have to gather a lot of different information, from simple repetitive test results to paragraphs of text outlining their findings. Typically in the past, they would spend time on site gathering the readings and findings, then come back to base and write up the report.
We make the capture of readings, radii and temperatures quick, and pre-defined text for larger more in-depth reports – control measures, recommendations and risk assessments for example. So all the work is condensed into the on-site visit, capturing results "on the go" and then once complete, the engineer synchronises their information, including photographs where needed, back to the central database where the report can be seen by office staff, approved and issued to customers. So, no need to spend time after each visit, sat at a computer writing the report. This means they can perform more inspection visits – crucial when demands on their time are really high.
What do office-based staff see?
As well as the easy scheduling of work, once a job is underway, they can see the status of a job, how far an inspector is through a visit and then, when the completed report is back, it goes through the validation process, people in the office can see the details, check the report and photos, make modifications and release it to the client. This includes the full status report, and component parts like lists of remedial work and lists of assets inspected.
How do reports get issued to clients?
Once confirmed, it can be automatically or manually emailed to the relevant client contact, or displayed through the web portal that links to our Field Service system. Clients can download the relevant PDFs and see professional, well-presented reports with customer's branding, logos and photographs.
Can it handle other work disciplines as well?
Because it's part of our suite of Field Service programmes, it can work alongside other disciplines, gas, air conditioning, electricity, lifting equipment, fire safety etc.
Thank you Shaun. For more information or a web-based demonstration, please call the Gabriel team on 0161 443 1000..