PDA & iPhone Applications
Many of our customers have considered Protean as an alternative. They've opted for the Gabriel system because of our ability to customise the PDA application to handle sophisticated field service requirements.
Our experience with PDAs goes back many years and as a result we have a huge understanding of what works (and what doesn't) for engineers working at customers sites.
A standard PDA application from an "off-the-shelf" software product probably won't suit you. Our bespoke PDA forms, combined with our unique synchronisation methods mean your business needs, the needs of your engineers and your customers can be easily met in one solution.
Our PDA, iPhone and laptop applications can be adapted for many environments and the screenshots on this page show the broad range of industries that we work with.
Using bar code scanners to track and add assets quickly at customer sites, capturing detailed Gas Safety, Heating and Air Conditioning Report data in line with industry regulations.
Electrical Companies
Vending Machine
Restocking
Landlord Gas Safety Certificates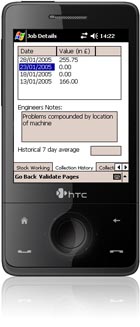 Once these are synchronised back to the central database, you can view and print the data, raise invoices and approve the information captured by the engineer so that your customers can view the details via a web portal.