Key Performance Indicator (KPI) Reporting
Whilst Job Logics has strong reporting tools, Gabriel adds a new dimension via the new KPI Dashboard screens. These give you a bird's eye view of performance across your service teams and its easy and quick to identify where problems lie and who is performing well.
Our dashboard and KPI reporting tool analyses data in your field service and customer databases and provides a management summary screen to give an instant birds-eye view of how your company and your team are performing.
You decide the KPIs you want to measure, and we add them in to the dashboard for you, so you just focus on the information you want.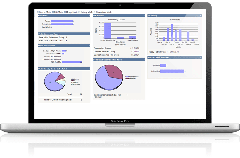 The sample to the left shows current outstanding quotes,  the renewal ratio of maintenance contracts this month, number of visits completed by field service engineers (or teams of engineers), total invoice issues, the rate at which new jobs are coming in and whether any exceptional problems (called "escalations") have arisen and not yet been dealt with.
This sample shows a sales team performance tool which reports on and compares the sales, meetings and activities of each member of the sales team.